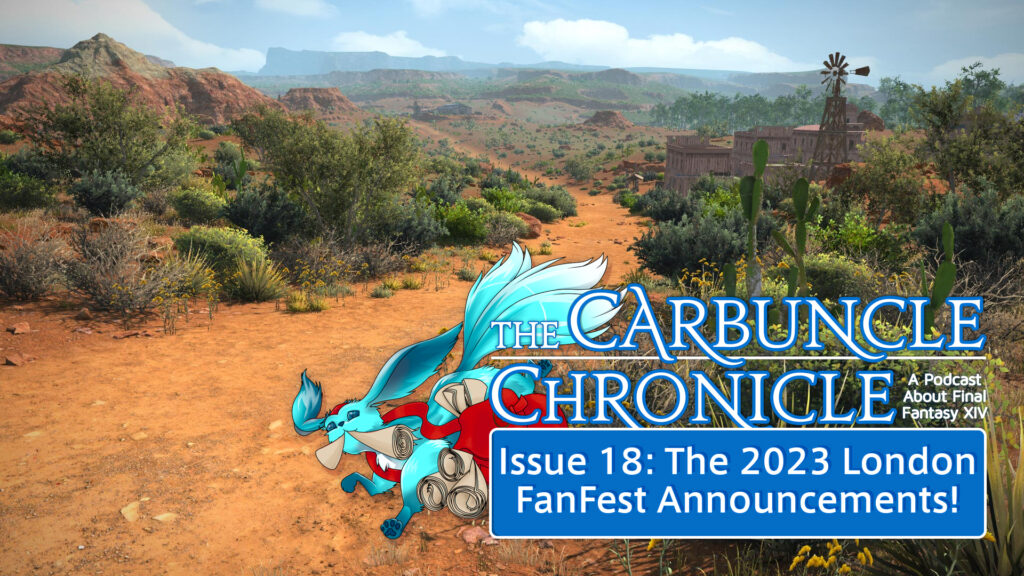 Hello Adventurers! The next Final Fantasy XIV expansion, Dawntrail, is arriving next year but this past October during the 2023 London FanFest we got yet more details about it. And perhaps the biggest news (that's not the new Viper job) was the announcement of the next alliance raid series being in collaboration with Final Fantasy XI. You know, the other Final Fantasy MMO! We need a FFXI expert. Someone who has been in the trenches, really seen some stuff. So, to talk about this we recruited a longtime friend of both The Carbuncle Chronicle and the OSMcast!, Cevian, who was more than up to the task to tell us all about it.
OSMnotes
Once again, we want to thank Tobias for stepping up and editing the episode. And did you know that his other FFXIV x One Piece podcast released an episode this week as well. Well, you do now! It's actually much heavier on the One Piece this time, so one might think of our episode doing it's due diligence to make sure the FFXIV side is properly represented. And thanks once again to Cevian for making sure that the FFXI side was also properly represented! In fact while we were talking, Cevian kept throw us some FFXI pictures to give us some visual references. And now, you can have them too:
Also, Tobias did Time Cues:
00:00:00: The Basil Addendum
00:01:55: Introductions and What's Been Going On Lately
00:14:19: 2023 London FanFest Keynote Discussion
01:03:59: Echoes of Vana'diel Discussion with Cevian
01:24:18: Final Keynote Thoughts
He even went ahead and listed the music used in the episode. Which are "Dawntrail Theme," "Carrots of Happiness (Forge Ahead ver.)", "The Sanctuary of Zi'Tah", "Movalpolos", and "Dedicated to Moonlight (Forge Ahead ver.). You should hit up the Discord and let him know what a good job he did.
We also have YouTube Channels now! Both for OSMcast proper and The Carbuncle Chronicle! Please subscribe, hit the bell, and share amongst your friends.
And as always, feel free to leave us a review on Apple Podcasts! Oh, and if you still use Spotify, go ahead and get on that mobile device and throw us some five stars there too. Tell your friends! As well, just like we mentioned when we do the OSMplugs, you can also join the Discord and support us on Patreon! PS If you have ever wanted some OSMmerch, feel free to check out our TeePublic page! PPS We appreciate you.