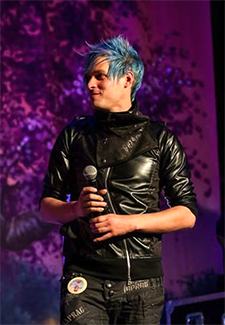 Sometimes, you gotta spin the wheel, play the cards, hit the Greed button in an MMO and hope you come out of the dungeon with a pretty cool new thing. At this past MTAC (that MTAC In Love con you've been hearing so much from us about?), we took a chance. We had an interview that we seriously had no clue what was going to happen.
Thankfully, we came out of it with a pretty cool new thing! And that thing is this interview. We got the chance to sit down and chat with Vedetta Marie and ScatterDOTFashion, a cosplay and Japanese fashion due par excellance.
Now, you may think that the OSMcast is nothing but glamor, pizazz, and fashionability, but really all we know about fashion comes from Jojo's Bizarre Adventures and Paradise Kiss. Which isn't nearly enough keep up with these fashionista kids.
However, they are totally cool people and it ended up being a really fun talk. Would chat with again! Five stars (Out of OSM, obviously)!
OSMnotes
We want to give a gigantic thanks to both Vedetta Marie, ScatterDOTFashion, and MTAC for the chance for the interview. And since it was more press conference style, we were't the only ones there asking the questions! You also heard questions from Charlie from the Chainsaw Buffet, as well as Andrew from A Man and His Pod, among others. So big shout outs to them as well. Yes, we gave them shout outs before, and will likely do so again. In, you know, about a week or two.
Next week, what could it be?! Well we haven't recorded yet, buuuuuuut it's probably Godzilla.
OSMinterview! Vedetta Marie & ScatterDOTFashion @ MTAC In Love