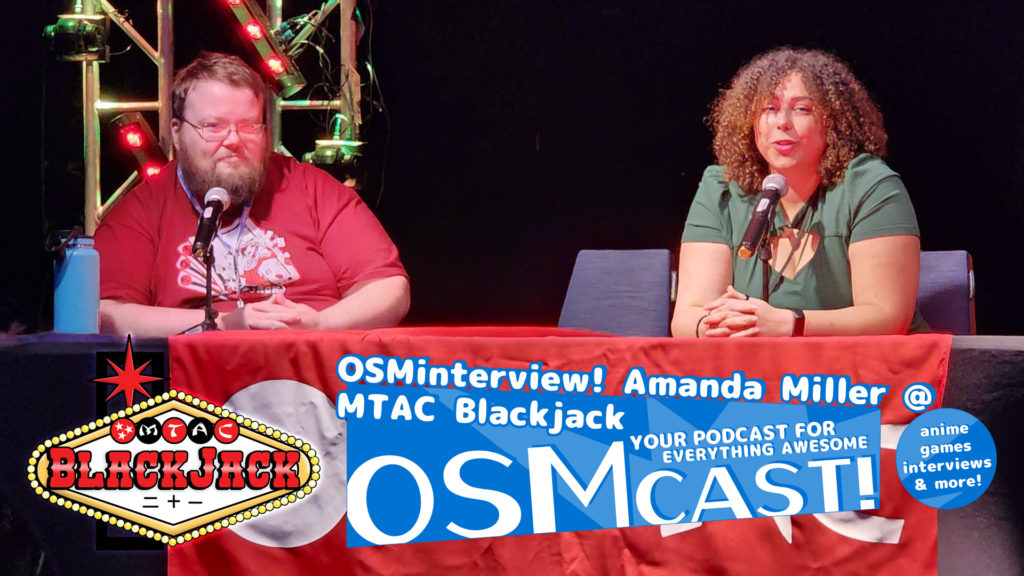 So, this is something new! Your friend and mine, John Robbins normally does a lot of our OSMinterviews. But this time, he got to instead moderate a Question-and-Answer panel for Amanda Miller at this year's MTAC Blackjack. This is the audio from that panel. And chances are, you have heard the voice of Amanda Miller before! Some of her most well-known roles include Sailor Jupiter, in the Viz Media re-dub of the classic Sailor Moon series and the new Sailor Moon Crystal series, Junko Enoshima and Toko Fukawa in the Danganronpa video game series, Sully and Cherche in Fire Emblem Awakening, Takeru Aizawa in Squid Girl, and Boruto Uzumaki in Boruto: Naruto Next Generations. And because this was a general con Q&A panel, she gets all sorts of questions. All. Sorts. Enjoy!
OSMnotes
We want to thank Amanda once again for taking the time to chat with us! And you can find all the places where Amanda is by checking out her online at:
ALSO! If you enjoyed listening in on this panel, please let us know! Here in the comments on the website or let us know on Twitter! You could let MTAC know as well! This is a brand-new thing we haven't tried before, so feedback would be welcome.
And as always, feel free to leave us a review on Apple Podcasts! Oh, and if you still use Spotify, go ahead and get on that mobile device and throw us some five stars there too. Tell your friends! As well, just like we mentioned when we do the OSMplugs, you can also join the Discord and support us on Patreon! PS If you have ever wanted some OSMmerch, feel free to check out our TeePublic page! PPS We appreciate you.
OSMinterview! Amanda Miller Q&A Panel @ MTAC Blackjack