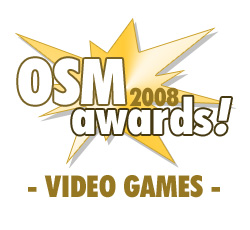 What's an easy way to kill time on the mic when a new year arrives? You talk about the previous year! So here's our OSMawards! for the video games of 2008.
Protip: We had to rasie the gain in order to get this podcast listenable. So it might get static-y at times.
OSMnotes
So I guess Bob's Game isn't. Oh well! We talk about it and then what happens? It's GONE. It's enough to make a man weep! … or not! Now he just sounds like (more of an) idiot. NO MATTER. But now we are going to talk CONTEST TIME.

The rules for this contest are very simple! You just have to talk to us! No matter what, we'll need an email. You can send us one at osmcast@gmail.com. Also, you could leave us a comment in the comments section below this post. Or call us up on the OSMline at (206) 202-0071. However you do it though, we'll need an email to contact you. As for the prize, well we are having this conest till the end of February so befor ethen we'll let you know!
PS: The tune we used was Pendulum's "Sounds of Life."
OSMcast: 2008 OSMawards! (Video Games) 01-12-2009