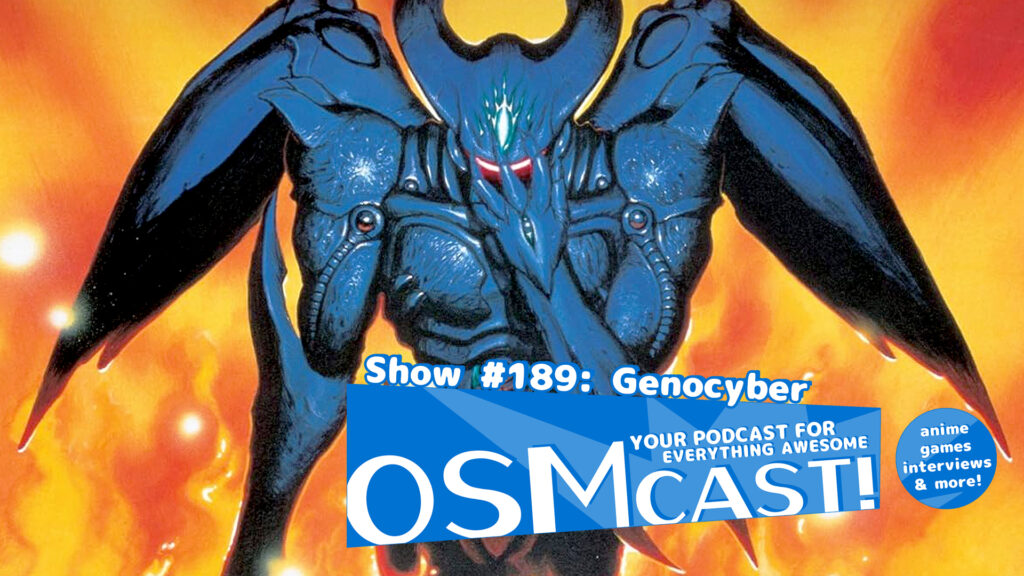 So sometimes things are an OSMcast!, and sometimes they are an OSMcast? Where one is unqualified awesome, and everyone should watch it. The other, maybe not so much but we wanted to talk about it anyway. And sometimes, we'll start thinking it was an OSMcast? and it turns that no… This is an OSMcast! only it just has a lot of super mega dope ass violence. And that's Genocyber, a 1994 anime OAV series by Artmic & Artland adapting the manga series by Tony Takezaki.
OSMnotes
Man, as the guy (this is Basil by the way, the guy that writes all of these posts that no one reads) that normally has to cat heard episodes? I really appreciate John taking the time to put these episodes together. Even if after he records an episode thinking it should get a question mark, I instead decide that it gets the exclamation point as benefits the subject matter. Also, a hearty welcome to Abby for getting roped into this whole podcast shindig. You're doing great. And of course, Kevin is there holding things down from the OSMcast Classic crew.
We now have YouTube Channels now! Both for OSMcast proper and The Carbuncle Chronicle! Please subscribe, hit the bell, and share amongst your friends.
And as always, feel free to leave us a review on Apple Podcasts! Oh, and if you still use Spotify, go ahead and get on that mobile device and throw us some five stars there too. Tell your friends! As well, just like we mentioned when we do the OSMplugs, you can also join the Discord and support us on Patreon! PS If you have ever wanted some OSMmerch, feel free to check out our TeePublic page! PPS We appreciate you.
OSMcast! Show #189: Genocyber