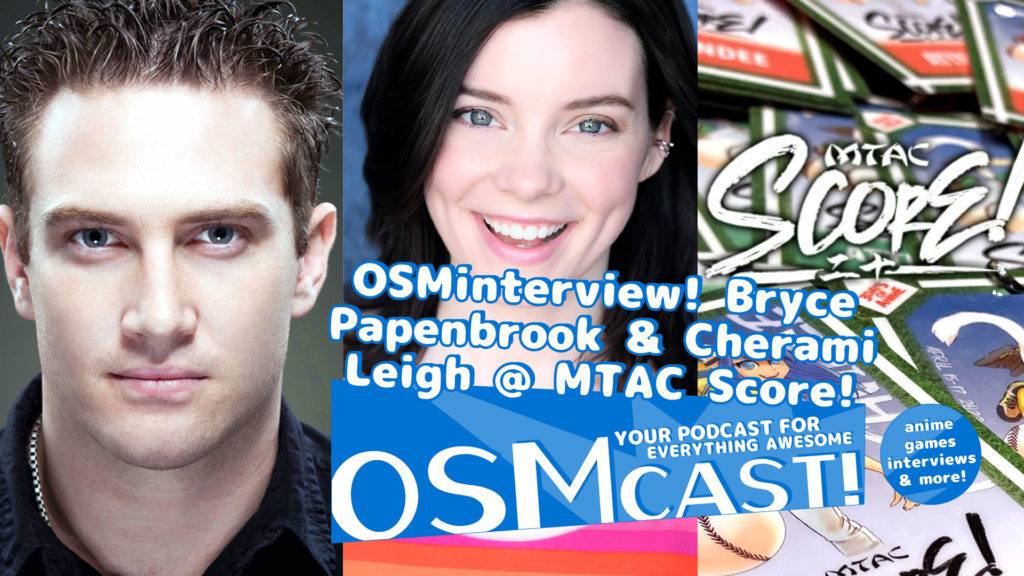 We are back with an extra packed MTAC Score OSMinterview! This time we have not one, but TWO amazing VAs for your listening enjoyment. Bryce Papenbrook AND Cherami Leigh! Bryce Papenbrook is best known for his portrayals of Kirito in Sword Art Online, Eren Jaeger in Attack on Titan, Inosuke Hashibira in Demon Slayer: Kimetsu no Yaiba, Rin Okumura in Blue Exorcist, and as Cat Noir in Miraculous: Tales of Ladybug & Cat Noir. Also he literally knows how to throw down, with like 4 different black belts and then some. But with a resume no less impressive, Cherami Leigh has been in over 200 different voice roles in both animated works and video games. Roles like Sailor Venus in the Viz Media dub of Sailor Moon, Kazari Uiharu in A Certain Magical Index and A Certain Scientific Railgun series, Asuna Yuuki in Sword Art Online, Lucy Heartfilia in Fairy Tail, Makoto Niijima in Persona 5, and the Female V in Cyberpunk 2077 for which she was nominated for a BAFTA Award for Performer in a Leading Role.
OSMnotes
We wanted to thank MTAC, Cherami, and Bryce for the chance to chat! If you are interested in following these folks you can find them in a whole bunch of places. For example:
Bryce Papenbrook
Cherami Leigh
You can find MTAC a bunch of places online, too:
And as always, feel free to leave us a review on Apple Podcasts! Oh, and if you still use Spotify, go ahead and get on that mobile device and throw us some five stars there too. Tell your friends! As well, just like we mentioned when we do the OSMplugs, you can also join the Discord and support us on Patreon! PS If you have ever wanted some OSMmerch, feel free to check out our TeePublic page! PPS We appreciate you.
OSMinterview! Bryce Papenbrook & Cherami Leigh @ MTAC Score!