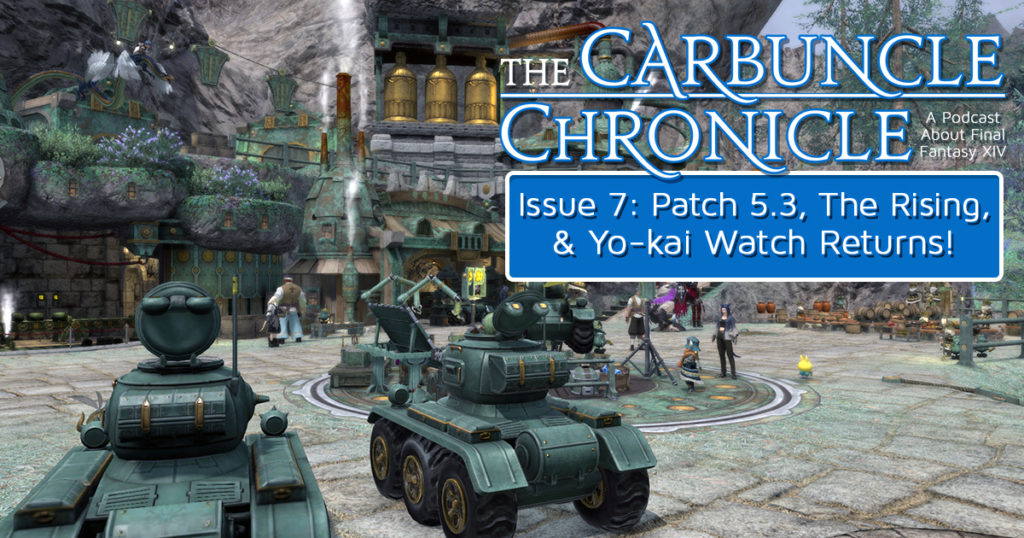 Hello Adventurers! The time has finally come, the long wait is over, Patch 5.3 has arrived! And with it, we have received an absolute embarrassment of riches. So for this issue of the Carbuncle Chronicle, we dive right on in!
We start with some updates about the upcoming Ishgardian Restoration, as well as new housing plots are being added!? Then we get into some of those juicy yet not very spoilery impressions of Patch 5.3. How we felt the story wrapped up, convincing Dylan that it's okay to do the Nier raids, flying in ARR, how awesome dwarves are, all sorts of things. We also talk about The Rising 2020 event happening right now, until September 17th. And we wrap up with remembering and chatting about some good, good yo-kai grinding.
And if you are in need of some help figuring out what to do and where to go for the Yo-kai Watch event, this is a really helpful visual guide made by KaiyokoStar:
FFXIV x Yo-kai Watch Event Infographic v2.0 #FFXIV #FF14 pic.twitter.com/gWBm5ORelq

— ☆Miss Kaiyoko Star☆ (@KaiyokoStar) August 21, 2020
The Carbuncle Chronicle Issue 7: Patch 5.3 Impressions, The Rising 2020, and Yo-kai Watch Returns!