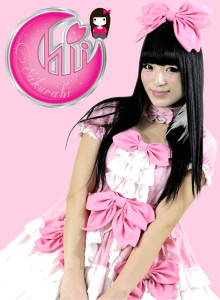 Yes, you thought we were done with MTAC! But as it turns out, we were able to get out one last interview. This one is with Chii Sakurabi, an international J-POP singer, recording artist, and lolita fashion enthusiast from Tokyo, Japan.
We got to talk to her about her music, fashion, as well as her latest album: Moon Princess.
OSMnotes
Chii Sakurabi's website | Chii Sakurabi's Facebook | Chii Sakurabi's YouTube | Moon Princess
So, OK. We had this audio that we did with an interview with J-Pop vocalist Chii Sakurabi at this past MTAC. When we got home, our files were being all corrupted and stuff. Not so good, since Chii Sakurabi did talk to us, so we really wanted to get that audio out. BUT THEN, we figured out a way to make it work so yay here have said audio!
We want to give a gigantic thanks to both Chii Sakurabi and MTAC for the chance for the interview. And since it was more press conference style, we weren't the only ones there asking the questions! You also heard questions from Charlie from the Chainsaw Buffet, as well as Andrew from A Man and His Pod, among others. So big shout outs to them as well.
Next time we will have a normal OSMcast for you, likely yet another one about an American movie blockbuster based of a Japanese thing.
OSMinterview! Chii Sakurabi @ MTAC In Love