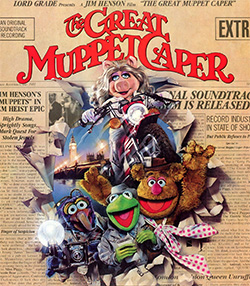 So our last "normal" podcast about a movie reinvention of an old franchise. Therefore we decided to go back to an entirely different franchise, and talk about one of their earlier movies.
That franchise is Jim Henson's Muppets, and that movie is 1981's The Great Muppet caper, directed by Jim Henson and filled to the brim with muppets. Which make sense as it is a Muppets movie. With Jim Henson at the helm.
We also talk about being among wolves, shovels, knights, how to protect yourself against the mosquito menace, and even some Dragon Quest and Final Fantasy X|V: A Realm Reborn Minutes.
OSMnotes
On Netflix | Blu-ray on Amazon | DVD on Amazon
YEA. Podcast! and Time Cues!
We start the OSMcast!ing – 00:00
General Gabbing – 00:51
Dragon Quest Minute! – 05:38
Final Fantasy XIV (A Realm Reborn) Minute! – 07:52
Moments of OSM

The Wolf Among Us – 14:45
Shovel Knight – 17:04
Final Fantasy 9 – 20:16
Doug's Mosquito Jacket – 24:48
Edge of Tomorrow/All You Need Is Kill – 27:44

The Great Muppet Caper

The Great Muppet Caper (Warning, we go straight into spoilers for this 1981 movie!) – 33:57
Our Favorite Muppet Moments – 65:37
OSMS out of OSM – 71:27
OSMcast! The Great Muppet Caper 7-14-2014