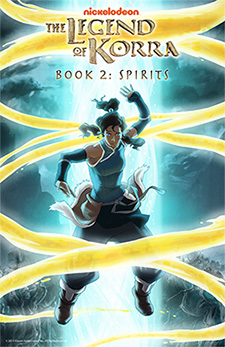 And lo, a year has passed since we all watched the second season, or Book as the kids call it, of the Legend of Korra. But what does that MEAN. Was it worth it? Were they able to write themselves out of the hole that was the complete story arc of Book One? And by that we mean that Book One ended in a way that really didn't need another season, so the hole we are talking is more the fact there was no hole? But can we DIG IT. Can we place our hands into the ground of The Legend of Korra: Book Two, Spirits and just DIG IT?
Short answer: Yeah pretty much, we are still doing an OSMcast all about after all.
Long answer: Once again, you can have that long answer by click on that episode, and either streaming it RIGHT NOW or download and listen at your earlier convenience. We did spend all that time talking and pontificating all over this here audio file. I'm adding more text here to make the answer longer.
TL;DR: This episode of the OSMcast is about The Legend of Korra: Book Two, Spirits. It's a pretty cool cartoon made by Bryan Konietzko and Michael Dante DiMartino and the second series to the first book and is in general a sequel to Avatar: the Last Airbender. You can go listen to us yap on about how cool we think it is. Which it was. At times. Eh, you'll find out!
OSMnotes
Firstly, here's a link to the Blu-ray of the second season. Here's a link to the DVD version.
Now have some delicious whole grain Time Cues:
We start the OSMcast!ing – 00:00
General Gabbing – 00:45
‎Final Fantasy XIV (A Realm Reborn) Minute!: 05:31
Moments of OSM

Aldnoah.Zero – 18:44
Total Drama series – 21:00
Bob's Burgers – 24:06
Monthly Girls' Nozaki-kun- 28:21

The Legend of Korra: Book Two, Spirits

The Legend of Korra: Book Two, Spirits Sans Spoilers – 35:16
The Legend of Korra: Book Two, Spirits Full of Spoilers – 63:48
Questions from Listeners Like You about The Legend of Korra: Book Two, Spirits – 89:04
OSMs Out of OSM – 108:41
OSMcast! The Legend of Korra: Book Two, Spirits 7-28-2014