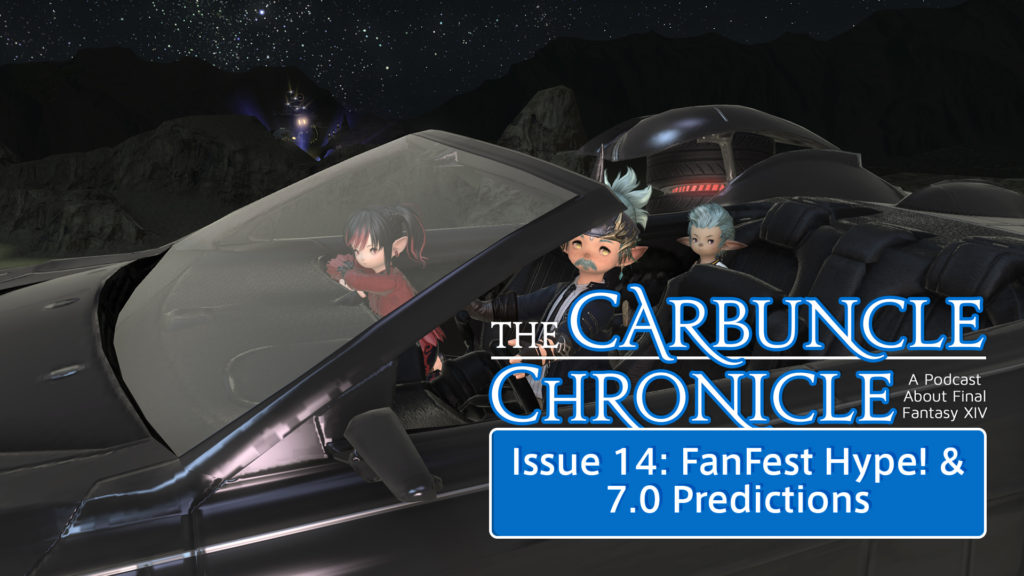 Hello Adventurers! Saddle up your chocobos folks, because we are heading to Las Vegas! Some of us figuratively, some of us literally. This upcoming weekend (July 28 & 29th, 2023) is the first of the set of the Final Fantasy XIV Fan Festivals. Which means fun is to be had, Keynotes and Live Letters to watch, and a new expansion to be announced! So, Basil, Anna, and special guest Tobias from Third Impact Anime and A Grand Line Reborn got together to talk about what one can expect to do at FanFest, what to see, and then get into all the ideas we have they could announce for 7.0. 
Spoiler Levels: Highish! Look, you are best served by playing through 6.45 since we are talking about everything that could possibly happen after that. You'll want those context clues intact. We are somewhat vague on details about what's been happening, but I wouldn't trust us either. Don't worry, this episode will still be here when you're done.
OSMnotes
If you can't make to FanFest in person (we really, really lucked out in being able to go), worry not! They are streaming almost all the most important parts as they happen. Here are the links you'll need.
If you want a schedule of the events happening, here you go: https://na.finalfantasyxiv.com/lodestone/topics/detail/88e4d9757f37226ea34d28da98440b754c35a7d7
We also have YouTube Channels now! Both for OSMcast proper and The Carbuncle Chronicle! Please subscribe, hit the bell, and share amongst your friends.
And as always, feel free to leave us a review on Apple Podcasts! Oh, and if you still use Spotify, go ahead and get on that mobile device and throw us some five stars there too. Tell your friends! As well, just like we mentioned when we do the OSMplugs, you can also join the Discord and support us on Patreon! PS If you have ever wanted some OSMmerch, feel free to check out our TeePublic page! PPS We appreciate you.
The Carbuncle Chronicle Issue 14: FanFest Hype! & 7.0 Predictions