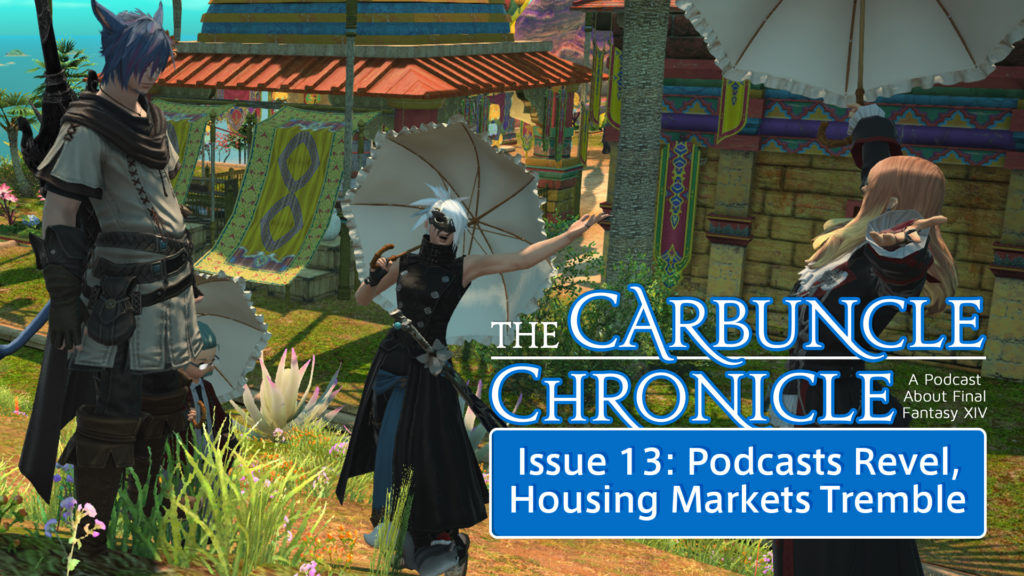 Hello Adventurers! As the new year rolls on, so too does the critically acclaimed Final Fantasy XIV Online patch cycle. In fact, we are in the midst of Patch 6.3 hyjinks right now! And not only did we get a new 24-person raid, a new dungeon with MSQ alongside, but we also got a bevy of great Quality-of-Life improvements as well. To help us walk through all this 6.3 Patch stuff is our special guest for this Issue: Alex Fraioli! When he's not dispensing sage life advice as the proprietor of the Critical * Hit bar used game store in Nagoya, Japan, you can also find him on Twitch or on the No More Whoppers podcast. But from Umbrellas to Ultimates, he's with us this episode to talk about all the things you love about the game we all play and are addicted to.
Spoiler Levels: Incredibly high! … Sorta. The first hour or so is actually pretty light on them, as we cover mostly the Quality-of-Life improvements the patch brought, and gripes about the important things in Eorzean life: Dyes. But after that first hour? Buckle up cause it's spoiler city over here! (Sidenote: Ever notice that none of the mounts in FFXIV have seat belts? It's like an episode of Star Trek or something.)
And if you are tuning in the week we are releasing this episode, all week-long Alex is also doing charity streams for TELL Japan! It's a great charity organization that dedicated to providing effective support and counseling services to Japan's international community and its increasing mental health needs. So if you are feeling at all generous, please head over to Alex's Twitch and donate today! (And if you are tuning in later, we wouldn't be surprised if Alex isn't planning on another charity stream in the future. Or just go to the TELL Japan site and donate anyway!)
And as always, feel free to leave us a review on Apple Podcasts! Oh, and if you still use Spotify, go ahead and get on that mobile device and throw us some five stars there too. Tell your friends! As well, just like we mentioned when we do the OSMplugs, you can also join the Discord and support us on Patreon! PS If you have ever wanted some OSMmerch, feel free to check out our TeePublic page! PPS We appreciate you.
The Carbuncle Chronicle Issue 13: Podcasts Revel, Housing Markets Tremble