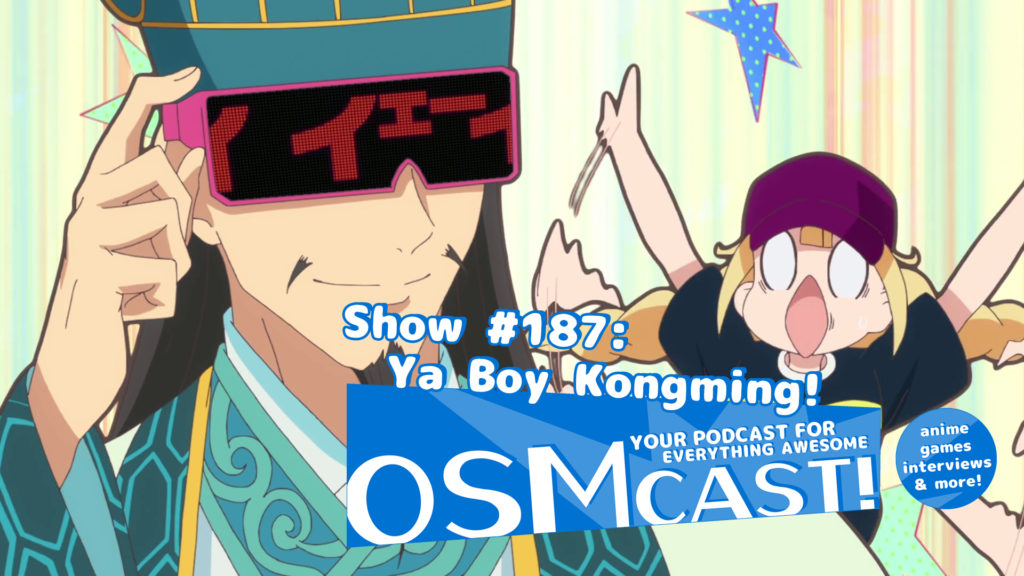 You know the saying, "Anything can happen on Halloween?" And sure, they may follow that up with things like, "Your dog can turn into a cat!" Or maybe, "There may be a toad in your bass guitar, or your sister could turn into a bat!" But have you considered the possibility of perhaps instead on Halloween… "You are the ancient strategist Kongming whom has died in the distant past, only to reborn as your younger self and dropped into modern day Shibuya?" The fact is anything can happen on Halloween. Any. Thing. So in this episode of the OSMcast, along with special guest Tobias from Third Impact Anime, we tackle this conundrum by talking about the hit anime Ya Boy Kongming! It's streaming on HIDIVE and is based on the manga written by Yuto Yotsuba and illustrated by Ryo Ogawa.
OSMnotes
Two episodes in two days? What madness! And actually, it's three! For you see, along with this episode, we also have the accompanying OSMbonus episode for our 5$ and up patrons up over at our Patreon! Now if you need more of us talking and yammering it up, you got options.

Some useful links! First, there is from Patrick St. Michel's Substack: Make Believe Mailer 45: Party People's Pathos, "Ya Boy Kongming!" And A Vanishing Shibuya. It covers how the anime really shows off pre-pandemic Shibuya and the club scene that show mirrors. And for Saint Seiya, George J. Horvath recently wrote a great article about possibilities on why Saint Seiya never really took off in North America like it did… in the rest of the world. That one is called: Theory Musing: Why Does Saint Seiya Consistently Fail in "North of Mexico"?

And now? You get Time Cues:
We Start OSMcast!ing – 0:00
General Gabbing – 00:45
Moments of OSM – 9:00
Ya Boy Kongming!

Ya Boy Kongming!, Sans Spoilers – 38:43
Ya Boy Kongming!, Full of Spoilers – 1:09:39
Questions from Listeners Like You about Ya Boy Kongming! – 1:27:19
OSMs Out of OSM: 02:13:17
Final Thoughts: 02:18:06
And as always, feel free to leave us a review on Apple Podcasts! Oh, and if you still use Spotify, go ahead and get on that mobile device and throw us some five stars there too. Tell your friends! As well, just like we mentioned when we do the OSMplugs, you can also join the Discord and support us on Patreon! PS If you have ever wanted some OSMmerch, feel free to check out our TeePublic page! PPS We appreciate you.
OSMcast! Show #187: Ya Boy Kongming!