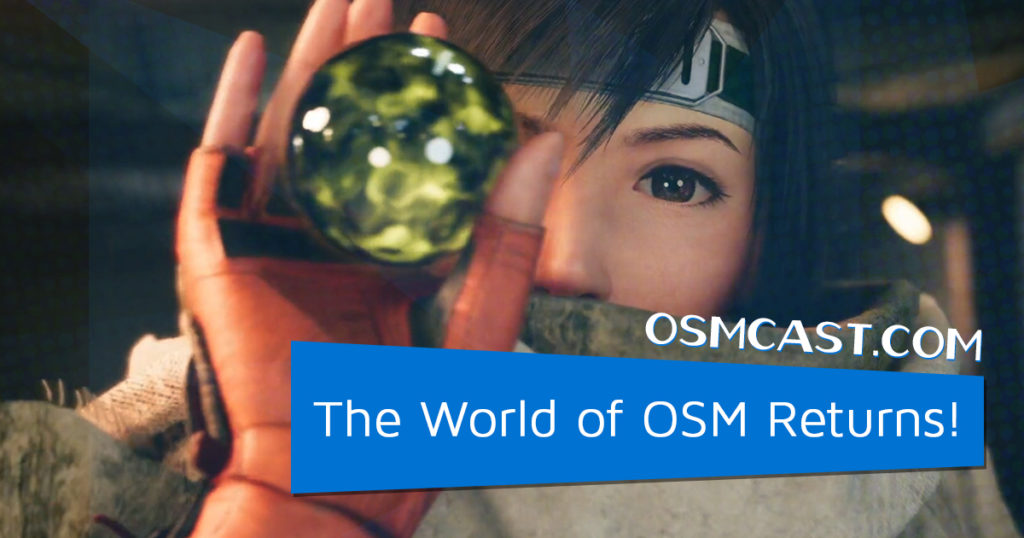 Plans are made. Then life happens! Plans are dashed. New plans are made. And while all that is happening, a whole lot of news happened! So we decided to talk about those things. Think of them like the friends we made along the way! We took those friends and bundled them up into a podcast. For you! Our friends, that are hopefully bundled up warm because it could be cold outside, and are listening. Perhaps the metaphor has long been lost now, but have a podcast on nerd stories this week!
OSMnotes
So how did you enjoy the episode? Liked it? Hated it? Let us know! Poke us on twitter! Join the Discord! You could even comment on the post, but who even reads these things anyway? Well, if you are one of those you may would like some Time Cues:Â
We Start OSMcast!ing – 00:00
General Gabbing – 00:37
The World of OSM Returns!, aka OSMnews – 2:19

Anime, Animation, and Fraiser News – 2:32

Final Evangelion Film is Finally Coming Out… Again! – 2:53
Megumi Ogata Is a Bad Ass – 5:32
Streaming Old Stuff, or Discotek Still Loves Us – 10:43
Animated Series Announced for Hatsune Miku – 17:27
Tokyo Mew Mew Gets a New Anime, Nice – 20:11
Avatar Creators are Gonna Make All the Avatars Because Paramount Plus Needs Content – 20:49
Frasier Gets a New Show at Paramount Plus, Nice – 23:28

Nintendo News – 27:59

Super Smash Bros. Ultimate's Get the Most Sword Characters Ever Now – 28:39
Famicom Detective Club in the US Whaaaaaaaaaaaat?!? – 31:32
Project Triangle Strategy, That's the Name of It! – 33:24
Mario Golf: Super Rush, But Only Basil is Excited – 39:05
The Legend of Zelda: Skyward Sword Gets a Remake, Nice – 44:05
Splatoon 3 is Gonna Happen, But Only Basil is Excited – 47:21
Pok̩mon Diamond and Pearl Gets some Remakes, Nice Р49:08
Pokémon Legends: Arceus aka Ghost of Sinnohshima! – 52:56

Sony News – 54:48

Guilty Gear Strive Beta – 55:24
King of Fighters XV Maybe Getting Some Rollback Netcode in the Works??? – 59:49
PS5 Will One Day Get a New PlayStation VR – 63:18
Pour One Out for Sony's Japan Studio – 64:29
Sifu Looks Pretty Bad Ass – 67:22
Kena: Bridge of Spirits Also Looks Neat – 68:36
Final Fantasy VII Remake: Intergrade Sure is a Thing! – 69:25
Final Fantasy VII Remake is Free on PlayStation Plus in March, Kinda! – 71:18
Square Enix Reveals some Weird Final Fantasy VII Mobile Games, Y'all – 74:55

Final Thoughts – 83:31
OSMcast! Show #172: The World of OSM Returns!