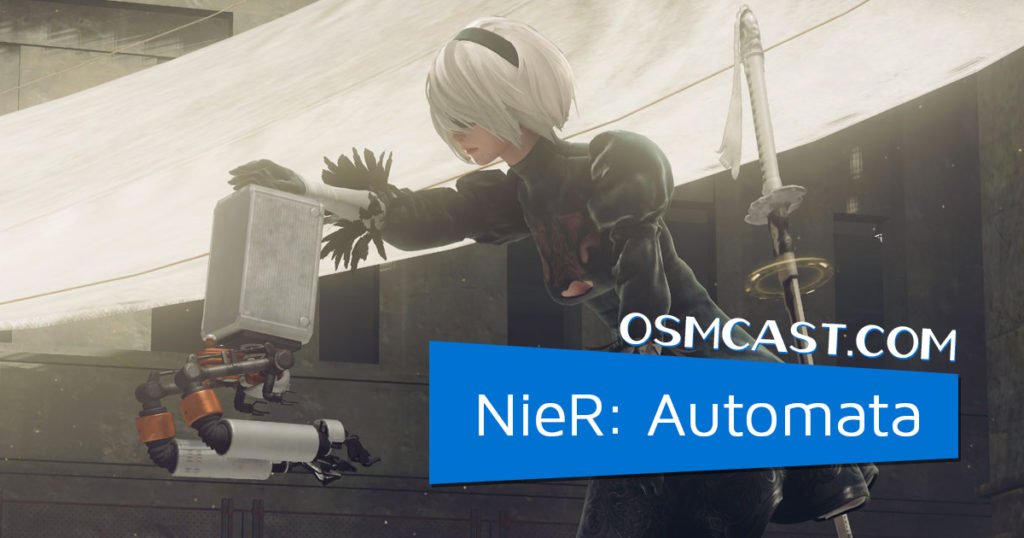 When in doubt, sleep in and have androids do the work. Especially if humanity is is threated by extinction via machines sent for our doom by space aliens. At least that seems to be the case for our latest episode!  We are talking about Yoko Taro's NieR: Automata, developed by PlatinumGames and published by Square Enix. We also talk about some other classic OSMcast topics like TV shows from Norway, manga, and Pokemon! And at the end, feelings.
OSMnotes
Hope everyone enjoyed the episode! We also just want to take a moment and point out that A.) Our wonderful editor Anna is very good and she deserves all the praise one can give. B.) Basil really should make a list of things to say at the end so he never forgets that. C.) That the actual sequel to NieR: Automata is happening in Final Fantasy XIV and somehow we for got to mention that in this episode! Thankfully, we have a whole FFXIV podcast now we can mention that for next time…

But until then, have some Time Cues!
We start the OSMcasting – 0:00
General Gabbing – 0:34
Patreon Shout-outs – 01:03
Moments of OSM – 02:58
NieR: Automata

NieR: Automata, Sans Spoilers – 19:13
NieR: Automata, Full of Spoilers Playthrough #1 – 35:08
NieR: Automata, Full of Spoilers Playthrough #2 – 47:46
NieR: Automata, Full of Spoilers Playthrough #3 – 57:20
Stand Out Moments – 82:22
OSMs out of OSM – 84:42
OSMcast! Show #162: NieR: Automata