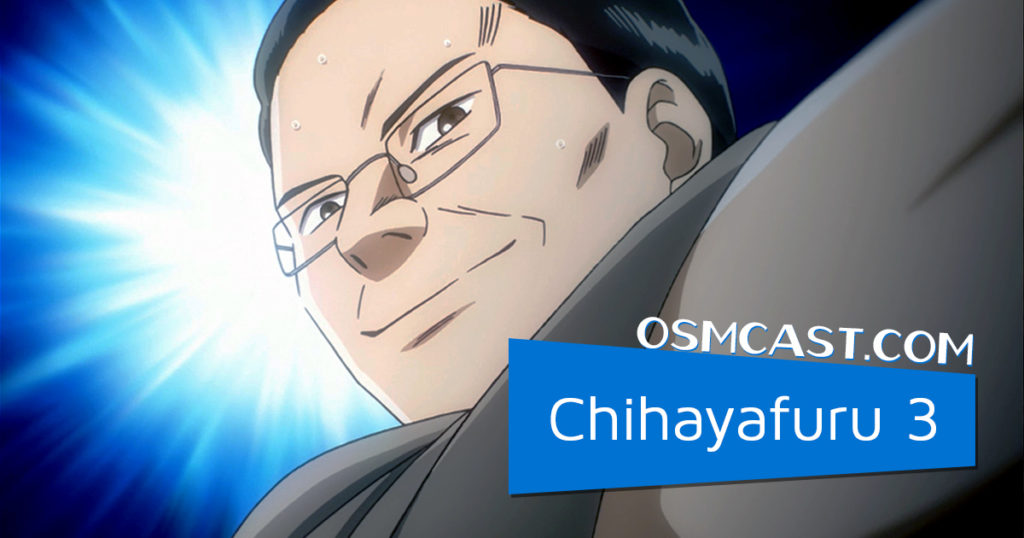 When I listen up at
The wide-stretched plain of podcasts,
Is the audio the same
That peach on Mount Momocon
In the land of Taiiku?
We never thought we would have the excuse to talk about the anime Chihayafuru again, but here we are! Based off the manga by Yuki Suetsugu, we are talking about the third season of Chihayafuru, animated by studio Madhouse, directed by Morio Asaka. Joining Basil this time is once again Jess from Momocon, as well as first time guest Kory from the Taiiku and Manga In Your Ears podcasts! 
OSMnotes
Get some Chihayafuru in your life! Streaming all of anime? It's on Crunchyroll! And if you want to order the first two seasons of anime on disc, Sentai Filmworks has got you covered. Oh, would you like the manga? Kodansha has got that going on!
Thank you Jess and Kory for coming on! Please do check out the Taiiku and Manga In Your Ears podcasts if you haven't yet, they are swell.
And while you cannot check out Momocon in person this year, you can check them out online! On Thursdays and Saturdays for the next few weeks from 7pm to 10pm EST via their Twitch channel, they'll be playing some of the best moments from past Momocons. And maybe even some cool newer stuff soon as well! Oh, and buy some sweet Momocon swag, while you still can!
Now how about some Time Cues:
We start the OSMcast!ing – 0:00
General Gabbing – 0:33
Moments of OSM – 3:27

Chihayafuru 3

Chihayafuru 3, Sans Spoilers – 15:30
Chihayafuru 3, Full of Spoilers – 43:35
Questions from Listeners Like You about Chihayafuru 3 – 60:21
OSMs out of OSM and Final Thoughts – 74:44
OSMcast! Show #158: Chihayafuru 3