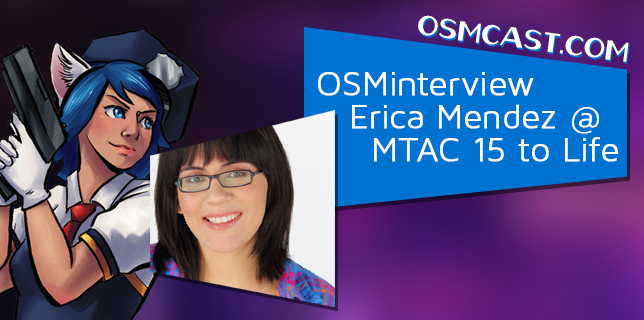 In our final interview of the MTAC 15 to Life Series, we got found out who Erica Mendez's Love Live is! Oh, I guess we should mention that Erica Mendez is the voice over artist of Aladdin in the Magi: The Labyrinth of Magic series as well as Ryuko Matoi in Kill la Kill. But importantly, we find out who her favorite Love Live is.
Because We Know What Anitwitter Wants™.
Of course we talk about her adventures in the acting of voices over things, as well as video games, and Mobile Fighter G Gundam! You know, all the finer things in life. This happened at MTAC 15 to Life, in a press conference style sort of the affair along with the Chainsaw Buffet and some other wonderful folks. Please, have a listen.
OSMnotes
We have switched hosting! The OSMcast is now powered by simplecast.fm. What this means is that in May/June we will be switching RSS feeds! So if you would like to switch your RSS now, that might make things easier for the future!
That said, we have been able to switch it already over at Sticher. They're good folks, that Sticher. In fact, if you use Sticher, could you leave us a review? It would be most appreciated!
OSMinterview! Erica Mendez @ MTAC 15 to Life