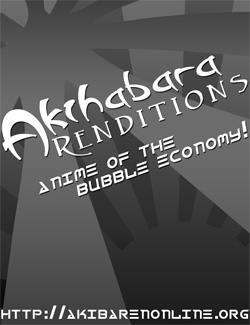 We have the latest episode of the OSMcast recorded, but the internet isn't being very nice about the transferring of files. Yet fear not true listeners! While we may not have an episode up today, our podcast superfriends Akihabara Renditions have two! And it just so happens, Basil is in both of them!
Akihabara Renditions Episode 23 – Fear and Loathing in Nashville: We contemplate upon MTAC once more! Sure we try to recollect our thoughts from April And it's now July but hey! It's not like there have been other, larger anime cons that have been going on lately, right?
Akihabara Renditions Episode 24 – Japanese Cartoons, Spring 2009: Since the Summer Anime Season is upon us, what better time than now to talk about the introduction to the Spring Season! If you just couldn't get enough previewing from the OSMcast's Spring Preview, then this episode is for you!
As soon as we can get the audio files to Inubito, the sooner we'll have the latest OSMcast. Which is on Code Geass, if you like that sort of thing!
Basil ends up in some Akihabara Renditions!