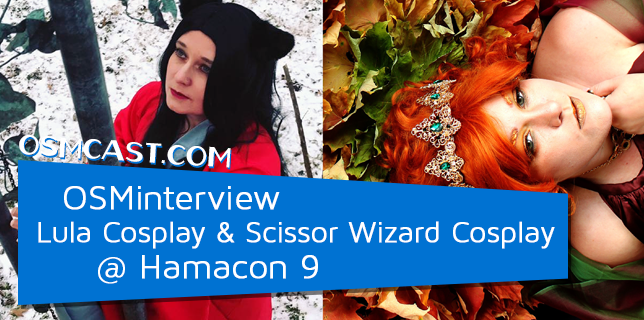 OK so, we here at the OSMcast are not exactly a um, well. dealers in the visual medium. We deal more in the business of audio. If we were a Transformer, we'd be best represented by Blaster or Soundwave. Really what we are getting at here is that this episode is a whole audio feast about a visual medium known as costume play. You know, cosplay. Specially, an interview with the wonderful cosplayers Scissor Wizard Cosplay and Lula Cosplay. There were the cosplay guests for Hamacon 9, and we were very happy to chat with them about costuming.
OSMnotes
Thank you to both Lula Cosplay as well as Scissor Wizard Cosplay for talking with us! You can follow Scissor Wizard Cosplay on Facebook, Instagram, Tumblr, and YouTube! You can also find Lula Cosplay on Facebook, as well as Instagram, Twitter, and check out her store on Etsy!
If you happen to be in North Alabama this weekend, Lulu Cosplay will be at the Hamacon Minicon 2018, selling amazing things and also running a workshop about making kanzashi flowers~
Also Basil has panels, Dylan runs the Analog gaming area, and it's just going to be a blast. You should go!
OSMinterview! Lula Cosplay & Scissor Wizard Cosplay @ Hamacon 9