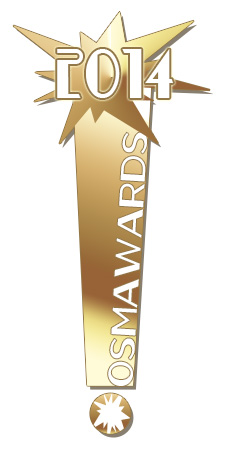 Oh snap! It's time for the 2014 OSMcast OSMawards! AKA the not so much awards, more like we just talk about the stuff we liked from the last year. Since last time we did it in the order of Video Games, then TV Shows, THEN Movies, we decided to switch things up! Into reverse order!
So now it's Movies, then TV Shows, and THEN a whole bunch of Video Games.
Although we kind of start with a video game. But ignore that! Actually… Don't. Don't ignore that.
We (and by we, we mean Basil) also complain about things that won't let us give them money, and also not letting us give them the money on stuff we wanted them to! It's a gas.
OSMnotes
First of, the OSMcast will be at Kami-con, covering the whole dang joint. Fun times shall be had! If you see us around (probably at the Hamacon table), come say hello!
Secondly, Time Cues~
We start the OSMcast!ing – 0:00
General Gabbing – 00:39
Comments From Internet People Like You – 04:15
Final Fantasy XIV (A Realm Reborn) Minute! – 07:57
Moments of CONFLICTION

Funimation – 13:56
Nintendo – 16:47

The 2014 OSMawards!

Addiction of the Year: Final Fantasy XIV (A Realm Reborn)! – 20:10
Movies

The Lego Movie – 33:50
Muppets Most Wanted – 36:11
Captain America: The Winter Soldier – 38:45
Snowpiercer – 41:57
Godzilla (2014) – 45:20
Guardians of the Galaxy – 47:18
John Wick – 52:21

TV Shows

@midnight – 59:12
Steven Universe – 60:23
Marvel's Agents of S.H.I.E.L.D. – 65:59
Once Upon a Time in Frozen Fanfiction – 67:07
Grimm – 69:56
Castle – 70:27
Gravity Falls – 71:13
House of Cards – 71:33
Last Week Tonight with John Oliver – 73:01
White Collar – 75:33
Legend of Korra – 76:58

Video Games

The Banner Saga – 80:23
Bravely Default – 82:14
Threes! – 87:29
Lightning Returns: Final Fantasy XIII – 88:35
Inazuma Eleven – 93:14
Strider (2014) – 93:58
Final Fantasy X/X-2 HD Remaster – 94:16
Kirby Triple Deluxe – 95:41
Peggle 2 – 97:03
Transistor – 97:44
WATCH_DOGS – 98:32
Mario Kart 8 – 99:16
Tomodachi Life – 100:54
Fantasy Life – 102:32
Shovel Knight – 103:31
The Legend of Heroes: Trails in the Sky – 105:09
Professor Layton vs. Phoenix Wright: Ace Attorney – 105:48
Theatrhythm Final Fantasy: Curtain Call – 107:00
Bayonetta 2 – 108:18
Pier Solar and the Great Architects – 109:28
Shantae and the Pirate's Curse – 110:37

Final Picks – 112:42
OSMcast! The 2014 OSMawards Part I: Movies, TV Shows, and Video Games 2-5-2015