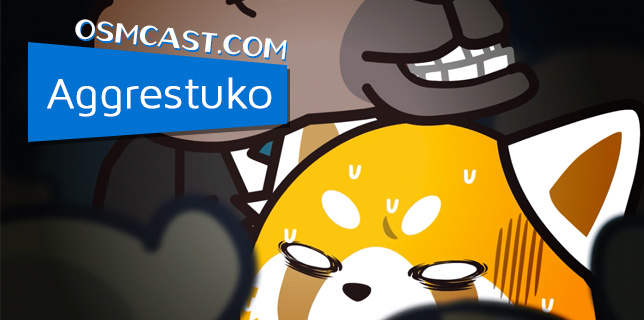 Same show, new podcast, and a slightly different way to title them! So let's get to the whole point here. We have an episode of the OSMcast! right here, for you, about Aggretsuko! That wonderful rocking red panda pal from our friends at Sanrio. The show is on Netflix, made by the studio Fanworks, and directed by Rarecho. We also talk about other things! Which you can find out about by listening to the episode! Or check the Time Cues, but that's not nearly as much fun!
OSMnotes!
Hope you like Netflix! Chances are, even if you don't, you have Netflix anyway. So go hit up some Aggretsuko, why don'tcha! Oh, here is that link to the Guardian article we talked about during the show! But first, Time Cues:
We start the OSMcasting – 0:00
General Gabbing – 0:40
Pet News – 01:44
Moments of OSM – 07:23

Nemesis Series – 07:47
Again!! – 11:04
Minecraft's Aquatic Expansion – 16:20

Final Fantasy XIV (Stormblood) Minute! – 19:40
Aggretsuko

Aggretsuko, Sans Spoilers –– 24:32
Aggretsuko, Full of Spoilers – 38:34
Minecraft Tangent – 41:00
OK well that was fun Back to Spoilers – 41:58
Questions from Listeners Like You about Aggretsuko – 43:13
Tea/Tales of Vesperia Tangent – 51:57
Geez OK OK Back to Questions! – 52:44
Final Thoughts about Aggretsuko and OSMs out of OSM- 55:36
And secondly, pet pics!
So there it is! The first OSMcast of 2018! But… Not the last of 2018…? Stay tuned!
OSMcast! Show #141: Aggretsuko