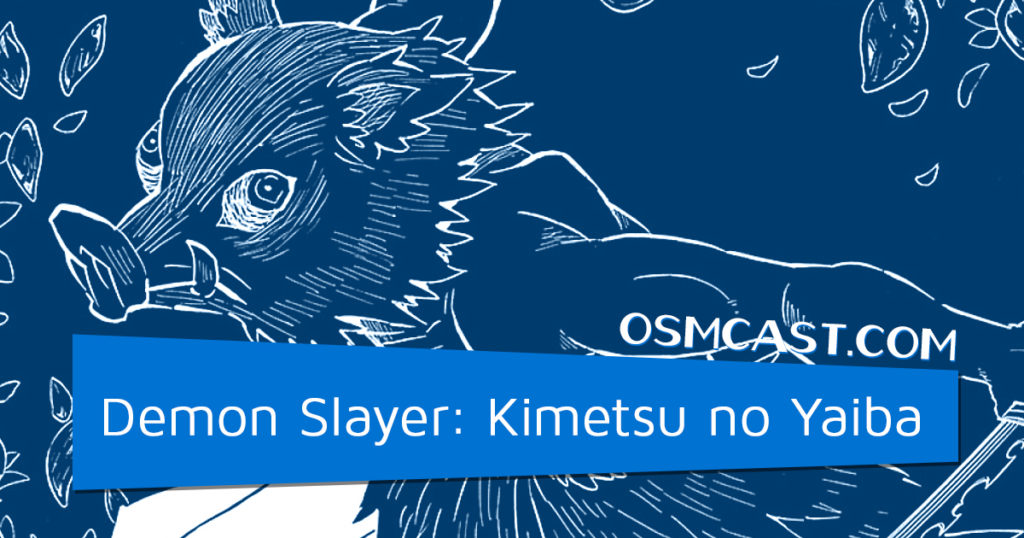 Accidentally continuing on a spooky-ish track*, we are gathered tonight to release a podcast about demons! And slayers! Of, well, demons! It's an anime and manga called Demon Slayer: Kimetsu no Yaiba. The manga is by Koyoharu Gotouge, with the anime adaption by Ufotable.
*Clearly you can tell by how echo-y it is. Because it's spooky, not because it was much a more open room this time or anything…
OSMnotes
As of this recording, the anime is out there streaming courtesy of Aniplex. So you can find it on Crunchyroll, Funimation, and Hulu. The manga is released by Viz, and they can be bought via volumes either physically or digitally. Or, you can stream the volumes on your electronic device via their Shonen Jump Plus app. But while you are buffering, have some Time Cues:
We start the OSMcasting – 00:00
General Gabbing – 00:32
Moments of OSM – 04:29
Demon Slayer: Kimetsu no Yaiba

Demon Slayer: Kimetsu no Yaiba, Sans Spoilers – 19:56
Demon Slayer: Kimetsu no Yaiba, Full of Spoilers – 53:17
OSMs out of OSM – 76:01
We're also going to be at AWA! Well Basil, Anna, and Dylan are. We've got the run down on the panels over here at itsbasiltime dot coms. Hope to see you there!
And you are, or even if you aren't come hang out with us on Discord! Well, it's the Third Impact Anime's Discord. But we're there all the same.
OSMcast! Show #153: Demon Slayer: Kimetsu no Yaiba