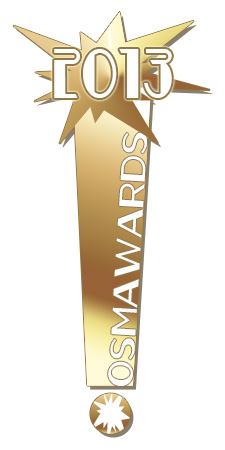 Lo and Behold we have returned. It is now the year of 2014. But 2013 had a lot of cool stuff in it, so we have brought back the OSMawards!
In the first part of our two episode saga of days past, we tackle the staple that is Video Gaming. From 3DS, to PS3, to 3DS, to 360, to Wii U, to 3DS, to PS4, to 3DS, we cover all the game that tickled our 2013 fancies. We then venture into the realm of not-so Japanese TV Shows, then wrap up with Movies.
We also talk about Space Dandy, fancy watches that tell you things, magical boards of water and ink, and more!
So much more, including possibly the end of Doug's never working freezer?! STAY TUNED.
OSMnotes
Basil on Twitter: @itsbasiltime
Kevin on Twitter: @Twitless_Kevin
OSMcast! on Twitter: @OSMcast
And now the most epic TIME CUES we have ever done!
We start the OSMcast!ing – 0:00
General Gabbing – 00:37
MOMENTS OF OSM – 05:04

Pebble Watch – 05:06
Buddha Board – 09:24
Sears replaced the freezer!! – 11:57
Space Dandy – 13:00

The 2013 OSMawards!

Video Games

The Year of the 3DS – 16:56
3DS Street Pass – 18:00
Fire Emblem Awakening – 19:37
Animal Crossing: New Leaf – 20:30
Pokemon X and Also Y – 21:35
The Legend of Zelda: A Link Between Two Worlds – 22:07
Phoenix Wright: Ace Attorney – Dual Destinies – 24:07
Tomb Raider – 24:40
Robot Unicorn Attack 2 – 26:30
Assassin's Creed IV: Black Flag – 27:41
The Last of Us – 31:26
Minecraft – 36:00
Tales of Vesperia – 36:14
Phantasy Star IV – 36:24
OK Back to Minecraft – 36:40
Metal Gear Rising – 39:46
Super Mario 3D World – 42:30
DualShock 4 Controller – 45:00
The Wonderful 101 – 47:14
OSMawards Video Game Wrap-up – 56:15

TV Shows (Not So Anime)

General TV Show Gabbing – 57:47
Almost Human – 60-:10
Doctor Who – 62:08
Grimm – 66:33
The Legend of Korra: Book 2, Spirits – 72:15
Futurama – 75:15

Movies (Still Not Anime)

Pacific Rim – 77:00
Thor: The Dark World – 77:50
Frozen – 82:15
The Hobbit: The Desolation of Smaug – 85:35
Hansel & Gretel: Witch Hunters – 85:51
Iron Man 3 – 86:45
Star Trek: Into Darkness – 88:35
The World's End – 90:25
Fast & Furious 6 – 92:36
OSMcast! The 2013 OSMawards Part I: Video Games, TV Shows, Movies 1-6-2014