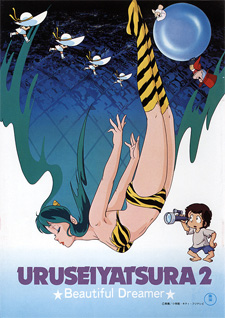 So what happens when Mamoru Oshii decides to stretch his directing chops with a Rumiko Takahashi property? You get the excellent film Urusei Yatsura 2: Beautiful Dreamer. What happens when you get two anime geeks in a room with a microphone to talk about said film? You get this podcast.
OSMnotes
You know, back when I bought this film last year, I paid around $20 for it. Now it's $80-150. That's pretty crazy! It makes Crusher Joe seem kinda reasonable online in comparison.
And as you no doubt may have heard on said recording, we are doing a variety of panels at MTAC! From teas to engrish to Go Nagai, we've pretty much going to have you covered about what's important in life.
(Note: The times are of course tentative and subject to change at MTAC's needs and/or whims!)
Engrish Jambore (Panel 3, Friday 2PM): Basil and Drew shop off a bunch of Engrishy-clips.
Tea: Green and More! (Panel 4, Friday 6PM): the elusive Doug throws down on the haps in tea.
Anime's Creepy Uncle: Go Nagai At A Glance (Panel 4, Friday 9PM): Basil and Kevin look through the works and craziness of anime and manga creator Go Nagai.
Getting Your Anime Groove Back (Panel 3, Saturday 5:30PM): Think you might be getting out of anime? Well Basil just might have some shows to get you back in the game, as it were.
OSMcast: Urusei Yatsura 2: Beautiful Dreamer 4-4-2011