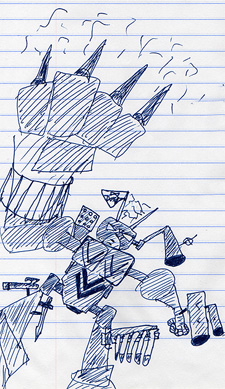 As we all know, the first thing you do in a new year is to look back at the previous year, unless you have a decade to deal with. So to ring in 2011 we have got the first half of the 2010 OSMawards! In this just-shy-of-two-hours BEHEMOTH of a podcast we tackle the "passive" media of 2010. TV shows, movies, anime, novels, stuff you consume but don't interact with… pretty much everything expect video games. Â So strap in, get some nice hot cocoa a warmin', and listen to us yammer for a while!
Bonus: And gaze up the MAJESTY that is OSMrobo that Lee drew while recording. His fists are fists of JUSTICE. And awesomeness.
OSMnotes
Bonus props to Narutaki of Reverse Thieves for rising to the challenge letting us know her picks via Twitter to help us fill in the gaps! If you also like to your thoughts in on a particular subject before we record, just keep an eye out for Basil's twitter feed. Usually the day of recording or so, he'll be asking for input.
Speaking of asking for input, Basil was invited onto the Chainsaw Buffet podcast to further talk about the year 2010, which he did with gusto. Keep an eye for it!
OSMcast: 2010 OSMawards! (Passive Edition) 01-10-2011