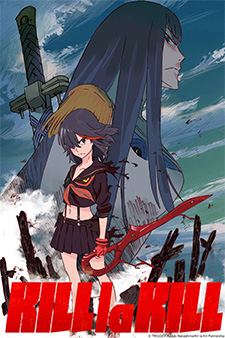 No time for filler introductions, this OSMcast is about studio Trigger's first time to really shine and put on it's Sunday Best for their latest show: Kill la Kill. It reunites director Hiroyuki Imaishi and writer Kazuki Nakashima of Gurren Lagann fame, and we talk all about it.
We also talk about the merits of owning a Nintendo 3DS versus a Playstation Vita, star kiddies, dwarf planets, braving and defaulting some more, shadows, gears, solids, and more!
BUT THEN A WHOLE LOT of kills, las, and some more kills.
OSMnotes
Watch it! There are a whole bunch of ways.
Also, we'll be heading to MTAC this weekend! Much like Kami-con, no panels… Until Basil shows up at some anyway. Hopefully we'll see Dylan's latest game! He has at least 2-3 days to make it! If you see him, make sure to ask about it.
Have some Time Cues:
We start the OSMcast!ing – 00:00
General Gabbing – 00:48
3DS la Vita – 2:24
MOMENTS OF OSM

Conception 2 – 09:48
Bravely Default, yet again – 14:17
Hyperbole and a Half: Unfortunate Situations, Flawed Coping Mechanisms, Mayhem, and Other Things That Happened – 15:24
This waiter at Chili's Grill & Bar he was really great guys – 16:22
inFAMOUS Second Son – 18:19
Metal Gear Solid V: Ground Zeroes – 20:38

And now, a question about Loveless? – 26:20
KILL LA KILL

We start the Kill la Killing – 28:25
The Kill la Kill Soundtrack – 65:35

goriLLA jaL – 68:01
InuKa3L – 70:31

Spoilers for Kill la Kill – 77:15
Questions from Listeners Like You about Kill la Kill – 102:17
OSMs Out of OSM – 127:33
OSMcast! Kill la Kill 4-14-2014