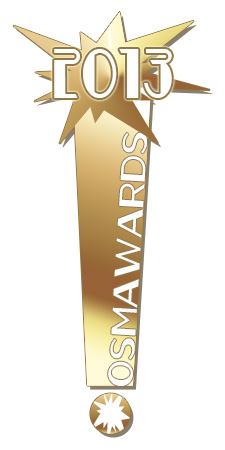 OK FOLKS! Strap in because we are in it for the long haul as the OSMcast! tackles all of anime and manga we could for our second half of the 2013 OSMawards. Over two hours of podcast insanity, all for you.
We talk about titans, part timers, tanuki, crowds, giant ro-bros, pants (or rather lack of pants), baseball, hunters, xs, more hunters, economics, bicycles, farming, infernos, vikings, flowers, gears, crocodiles with glasses on tier heads, just all SORTS of stuff!
We ALSO answer Gerald of Anime World Order's question to Hisui of Ninja Cons- Reverse Thieves just because we CAN. Well, Kevin can. Only Kevin had the fortitude to withstand the might of such a question.
OSMnotes
Basil on Twitter: @itsbasiltime
Kevin on Twitter: @Twitless_Kevin
OSMcast! on Twitter: @OSMcast
Also, the OSMcast! is now on tumblr! Go watch us tumbl about there. (Editor's Note: We never really bothered updating it.)
Also Also, we are currently in this Aniblog Poll Thing We Guess?
And if you thought last episode's Time Cues were insane, check these out:
We start the OSMcast!ing – 0:00
General Gabbing – 00:42
MOMENTS OF OSM – 05:14

Fire Emblem Awakening – 05:22
Duck (As in, how delicious it is to eat) – 07:17
Nintendo Doom n' Gloom – 07:50
The Banner Saga – 10:00
More Nintendo Gabbing – 12:42

The 2013 OSMawards!

Manga

Viz Manga – 27:29
Firefighter! Daigo of Fire Company M – 30:10
Sickness Unto Death – 34:16
Pink – 35:23
Wolfsmund – 38:03
Moon & Blood – 41:08
Paradise Kiss – 42:33
Attack on Titan – 44:45
GeGeGe no Kitaro – 50:16
Vinland Saga – 52:33
Mobile Suit Gundam: The Origin – 54:36

Anime That Finished in 2013

AKB0048 – 61:28
Chihayafuru – 62:32
Attack on Titan – 63:51
The Devil Is a Part-Timer! – 68:11
Maoyu – 69:30
Gargantia on the Verdurous Planet – 71:19
Vividred Operation – 74:36
The Type-Moon Question – 76:47
Gatchaman Crowds – 79:00
The Flowers of Evil – 81:41
Silver Spoon – 84:29
Sunday Without God- 88:23
Symphogear – 90:05
JoJo's Bizarre Adventure – 91:11
From the New World – 93:27
Free! – 96:27
Touch – 99:49
Disappointments of 2013 (Valvrave the Liberator & Robotics;Notes) – 100:33
The Eccentric Family – 103:35
Inferno Cop – 108:56

Anime That Started in 2013, But Continues On

Golden Time – 113:00
Hunter x Hunter Brotherhood – 114:00
Season of Spoooorts – 117:26
Log Horizon – 126:36
Samurai Flamenco – 129:00
Kyousougiga – 132:25
Kamen Rider Gaim – 134:35
Kill la Kill – 136:40
Space Dandy (Because we can't not mention it~) – 143:30

The Final 2013 OSMawards Choices on Anime – 144:00
OSMcast! The 2013 OSMawards Part II: Anime and Manga (But not in that order) 1-20-2014