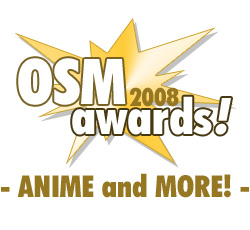 It's a better late than never podcast as the crew at OSM Central takes a crack at our favorite Japanese animated things for the year 2008! The EPIC CONCLUSION of the 2008 OSMawards! Yay!
OSMnotes
I'm kinda tapped out of things to say, so we'll just repeat the contest again and call it a week. Next week's OSMnotes will be more awesome, I promise!

The rules for this contest are very simple! You just have to talk to us! No matter what, we'll need an email. You can send us one at osmcast@gmail.com. Also, you could leave us a comment in the comments section below this post. Or call us up on the OSMline at (206) 202-0071. However you do it though, we'll need an email to contact you. As for the prize, well we are having this conest till the end of February so befor ethen we'll let you know!
OSMcast: 2008 OSMawards! (Anime & MORE!) 01-19-2009