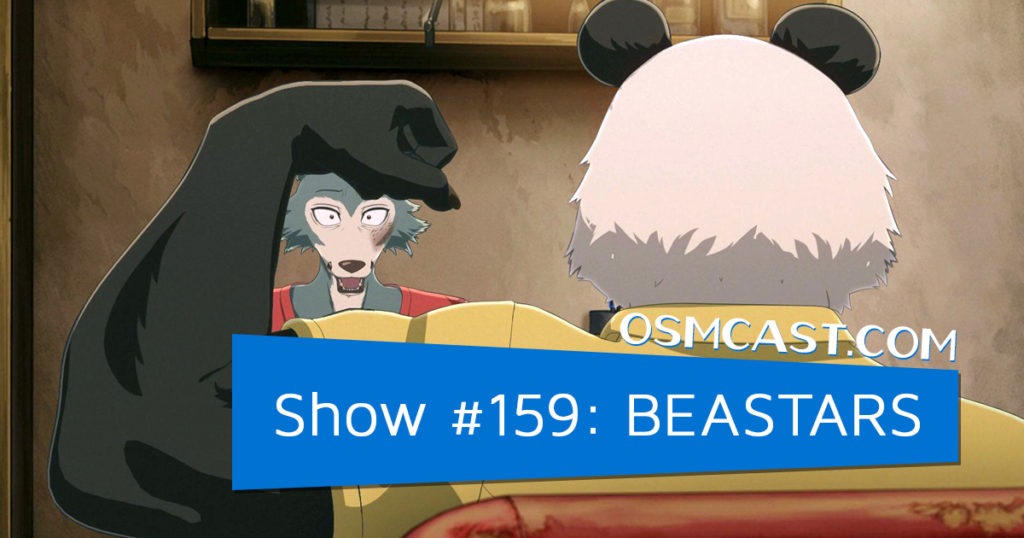 It's a dog eat dog world out there! Or rather, a wolf eat rabbit world? At least a predator could eat prey world, expect that's looked down upon and really just a bad idea to do. At least that's the world of BEASTARS, the latest Netflix craze from the anime studio Orange based off the manga by Paru Itagaki. Which coincidentally, is the topic of this episode! Crazy how that works.  
OSMnotes
Watch BEASTARS! Read BEASTARS! Join the Third Impact Anime Discord, the unofficial official OSMcast Discord Because Basil is Lazy and Also Scared If We Had a Public OSMcast Discord No One Would Join.

Anyroad, also don't forget Momocon is doing online things all this month! On Thursdays and Saturdays for the this week from 7pm to 10pm EST via their Twitch channel, they'll be playing some of the best moments from past Momocons. And from May 21 thru the 24th check out the Virtual Big Show. MomoConline! You may even see some OSMcast panels while you are there…
(Oh, and buy some sweet Momocon swag, while you still can!) And now, Time Cues:
We start the OSMcasting – 0:00
General Gabbing – 0:33
Moments of OSM – 05:31

Final Fantasy VII on the Switch – 05:44
Final Fantasy VII Remake– 10:33
Persona 5 Royal (but really more FF7R*) – 14:53
The Lighthouse Question that Gerald asked, is finally answered! – 19:07

BEASTARS

BEASTARS, Sans Spoilers – 20:58
BEASTARS, Full of Spoilers – 42:49
Questions from Listeners Like You about BEASTARS – 51:41
Final Thoughts – 72:22
OSMs out of OSM – 75:15
*Editor's note: Oh my god you guys are doing this as a whole show next week get on with it!
OSMcast! Show #159: BEASTARS