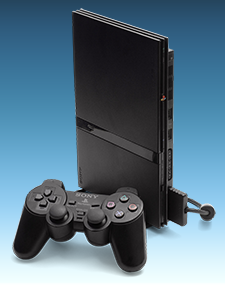 We continue on our journey throughout all of PlayStation,.focusing this time on the Sony PlayStation 2. We talk about the system, it's games, and some more about it's games. It's a nostalgic action-packed episode that the whole family can enjoy!
As long as they can enjoy some folks talking about the PlayStation 2 for a couple of hours, anyway.
But to not leave all our Realm Reborn buddies in the lurch, we also talk about the latest holiday event in Final Fantasy XIV: A Realm Reborn. Which should be ending any day now. Well… How about that.
OSMnotes
No time for notes Dr. Jones! Only time for Time Cues:
We start the OSMcast!ing – 00:00
General Gabbing – 00:41
Final Fantasy XIV (A Realm Reborn) Minute! – 06:06
PlayStation 2 AKA PS2

The History and the System in General – 11:23
Where We tell Stories About Getting Our PS2s – 18:48
DRE: Disk Read Error – 23:15
The Games of the PlayStation 2 – 33:36

Star Ocean: Till the End of Time – 35:54
Tales of Games – 37:48
Xenosaga Series – 42:58
Prince of Persia: The Sands of Time – 47:25
Kingdom Hearts Series – 55:57
MS Saga: A New Dawn – 60:15
Mobile Suit Gundam: Zeonic Front – 62:35
Steambot Chronicles – 64:44
Wild Arms 3 thru 5 – 65:43
Breath of Fire: Dragon Quarter – 67:10
.hack//Series – 69:55
Katamari Damacy – 71:12
Final Fantasy X – 72:24
Final Fantasy XI – 78:47
Final Fantasy X-2 – 84:25
Final Fantasy XII – 85:34
Metal Gear Solid 2: Sons of Liberty and Metal Gear Solid 3: Snake Eater – 94:29
Shin Megami Tensei Series – 99:44
Shin Megami Tensei: Persona 3 – 101:02
Dragon Quest VIII: Journey of the Cursed King – 102:39
Shadow Hearts Series – 103:27

Questions from Listeners Like You About PlayStation 2 – 107:04
Fondest Memories About PlayStation 2 – 115:57
Final Thoughts – 119:15
OSMtable! A Roundtable about PlayStation, PS2 12-29-2014