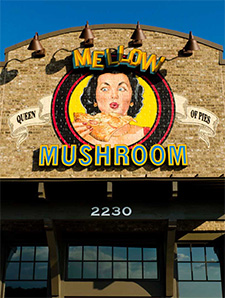 Now, our tagline for the OSMcast has always been, "Your podcast for everything awesome." And that normally has been in reference to anime, manga, video games,movies, things that we consume. However, food is also a thing that we consume. We have obviously left out a category of things that are awesome that we haven't podcasted about.
That, or we have officially jumped the shark and have ruined ourselves forever.
But no matter what may come, what has come is our first restaurant podcast! So please enjoy this audio discourse of Mellow Mushroom, a pizza joint native to the American Southeast.
OSMnotes
I best everyone is sure hungry for some Time Cues!
We start the OSMcast!ing – 00:00
General Gabbing – 00:35
Moments of OSM – 12:30

Sword Art Online Season 2, Episode 9, 11:30 Minutes in – 12:48
Blue Blazes (Aoi Honoo) – 14:48
BoJack Horseman – 16:47
Dreaming of Minecraft – 19:04
Nintendo 2DS – 2:23

Dragon Quest Minute! – 24:50
Final Fantasy XIV (A Realm Reborn) Minute! – 28:06
Moments of F.U. – 33:37

Final Fantasy XIII – 34:12
Under The Dome – 36:46

Mellow Mushroom

General Mellow Mushroom Talk- 43:58
Mellow Mushroom Food Manga Reaction Moments – 69:05
Questions from Listeners Like You about Mellow Mushroom – 81:03

OSMs Out of OSM – 90:13
… No? Well don't worry, next time we'll be back talking about about some Japanese cartoons!
OSMcast! Mellow Mushroom 9-8-2014