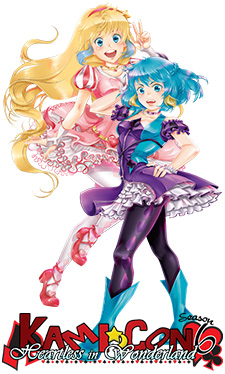 In our first con report of 2014, we decided to head down to Birmingham, AL to check out Kami-Con's sixth year. As it turns out, we had a great time at the con! Sadly, not such a great time in the city. However, you'll be able to hear all about the good, the bad, and the awesome contained in audio form therein!
We also brought back our "REALLY real real" segments for this conquestable podcast. What are those, you may ask? The "REALLY real real" segments are when we go forth and talk to the con goers  themselves on how they enjoyed  the con and their own person highlights. Sometimes they get their own episode, but this time we decided  to included them  during the breaks.
OSMnotes
And we mentioned it during the podcast, but once again we want to congratulate Ray and Chelsea on their getting married and wish them nothing but the best. We also wish Kami-Con the best  but the  con itself did not get married. That would have been weird.
But you know what aren't weird? Time Cues!
We start the OSMcast!ing – 0:00
General Gabbing – 00:39
MOMENTS OF OSM – 01:41

The Lego Movie
The Puppy Bowl
The Olympics

An Apology – 08:12
Kami-Con Season 6

Friday – 10:23
The REALLY real real Kami-Con Season 6 Experience Part 1 – 27:45
Saturday – 31:57
The REALLY real real Kami-Con Season 6 Experience Part 2 – 67:45
Sunday – 72:10
OSMcast! Kami-Con Season 6 2-17-2014