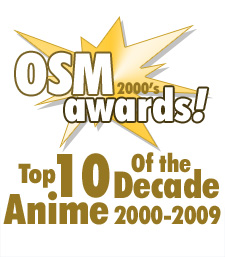 That's right! AWO isn't the only podcast doing a "decade in review" podcast months after everyone else did one! We've got one too! Although ours is a little different. Basil, Eric, Kevin, and Rail worked up our each individual Top 10s and then we talk about them in a monolithic almost two hours ironcaged deathmatch of DEATH.
While wearing audio-tuxedos.
Because we're classy.
OSMnotes
Hopefully you have found something you liked! If not, that only means you are already us relistening to ourselves talk. So cut it out, will ya?!
As always, comment, email, voice mail! If anyone wants a full listing, I know that I (Basil) have my list that I can post, and I'm pretty sure so does Kevin, and probably Eric and Rail, too. Or I guess we could listen and jot everything down manually… Nah…
Next time, something from the wacky fun-filled world of OHAYOCON!
OSMcast: The Top 10 Anime of the 2000s OSMawards!