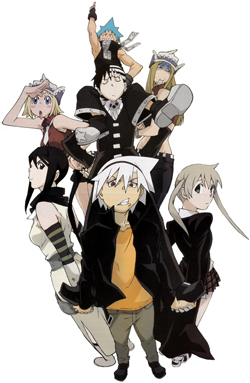 This time on the OSMcast! we decided things were getting little too old in the mix, so we thought we'd review something a bit newer. So here's a podcast all about the anime adaptation of Soul Eater by BONES, from the original work by Atsushi Okubo.
OSMnotes
Rail kept complaining that the opening wasn't HARDCORE enough. So hopefully it sufficed. While Funimation has the rights to the Soul Eater anime and will surely be releasing the DVDs at some point, Yen Press has the manga rights and will start releasing the manga in stand alone volumes starting in October. In the meantime the Soul Eater manga is being printing in their monthly Yen Plus magazine.
So, we asked in this episode about the use of our forum. Would you like for us to have our own set of forums, or would you just like us to use the forums we actually have? Let us know!
There is also contest stuff but Basil is lazy and has work in the morning so you can just scroll down and see what's up in a previous OSMnotes.
OSMcast: Soul Eater 07-13-2009