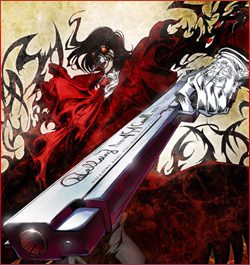 To conclude our October extravaganza of Octoberness, we're finishing out with another set of three with a podcast all about the latest take on Kouta Hirano's epic tale of vampires, Nazis, and blood, lots of blood.
So yeah, Hellsing Ultimate.
OSMnotes
As it turns out this time Buy.com has the best deal on Hellsing Ultimate, with all the discs running you around $16.63 a disc.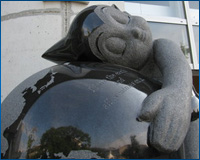 We only covered Hellsing Ultimate Volumes 1 thru 3, but you should go on ahead and buy all four. the fourth volume actually has our favorite villain yet, Rip van Winkle!
Protip: If the image to your left does not melt your heart, then there is no hope for you, as your heart is now cold, bitter stone. And you should feel bad. I mean just look at him.
And don't forget to check out Chris Kohler's write-up on "The Famous Takahashi." It's a really interesting look at a marketing guy you can't help but to love. That's really, really hard to do.
Though I guess it helps when you can mash on a video game controller sixteen times in one second.
Also, we know when our podcasting panel will be at CrisisCon! It's on Sunday November 2nd, from 11:30-12:30 in the Main Events room. It's called Podcasting 101. We will be joined by our fellow Huntsvegas-ian podcasters Dead Workers Party Network! I suppose we will be talking ahout the basics of getting into podcasting and whatnot, which should be enjoyable. If nothing us you'll get to listen to us ramble on for an hour of your day. Only this time it's live and in person! I believe the DWPN guys are playing to pull off either a stream or a live recording of the panel, so I'd imagine we'll be linking to that when we can.
And then we'll be heading up north for Nekocon the weekend after! Not that we have any panels or anything planned, but we'll be there all the same.
As always, please fell free to comment in the comments section, or send us an email at osmcast@gmail.com! Or even call us up on the OSMline! The number is 206-202-0071.
We'll see you next week!
OSMcast: Hellsing Ultimate (1 thru 3) 10-27-2008