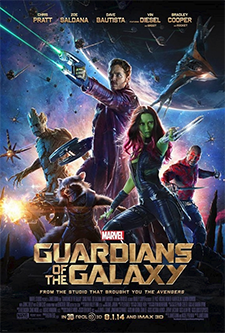 Another podcast, another episode where we talk about Monthly Girls' Nozaki-kun. We mean Marvel's latest movie, Guardians of the Galaxy. Which once again proved to us here at OSM Central that the way to our hearts is for Marvel to make awesome films about space and featuring wicked warhammers.
That could be just for Basil, though. Eh, close enough!
…
That warhammer, though…
OSMnotes
So see they movie! It might even still be in theaters! It just nabbed the top spot in the box office this past weekend so you have a pretty good shot!
But in the meantime, have some Time Cues:
We start the OSMcast!ing – 00:00
General Gabbing – 00:36
Dragon Quest Minute! – 4:51
Final Fantasy XIV (A Realm Reborn) Minute! – 7:22
Moments of OSM

Akiba's Trip: Undead & Undressed – 13:54
Sword Art Online: Hollow Fragment – 17:25
Elysian Shadows and Under the Dog – 19:04
Great Teacher Onizuka (2012 Television Drama) – 23:00
Monthly Girls' Nozaki-kun – 27:08

Guardians of the Galaxy

Guardians of the Galaxy, Sans Spoilers – 29:58
Guardians of the Galaxy, Full of Spoilers – 55:53
Questions from Listeners Like You about Guardians of the Galaxy – 78:49
OSMs Out of OSM – 103:15
OSMcast! Guardians of the Galaxy 8-25-2014